Women's Yoga & Workout Pants: Leggings, Tights, & Harem Pants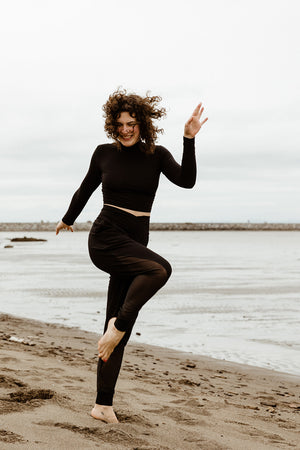 BUY YOGA PANTS & TIGHTS ONLINE AT LADYBASE LOVE
Let's face it, there are a lot of places where you can buy yoga tights online, but none of them have the unique designs and patterns that Ladybase Love offers. Launched by two female entrepreneurs, the clothes are designed from their own experience as women. The leggings come in a choice between high and regular waists to provide great structure for all body types. They are designed to be good quality leggings with a superb fit.
Our aim is to be the best place to buy women's leggings in Canada and internationally. Ladybase Love offers the best options for women's climbing pants, acro or acro yoga leggings, even activities like pole dancing and Cross Fit. Our diverse range of products will not disappoint.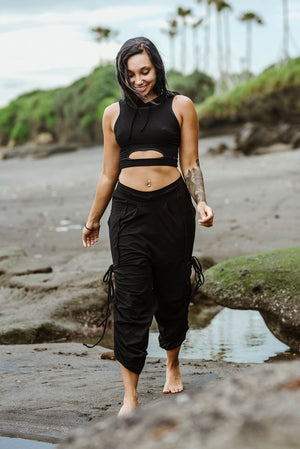 PRINTED YOGA PANTS TO LIFT YOUR ACTIVE LOOK
Why settle for plain black yoga pants? If you want to add a touch of originality to your workout looks, choose one of our printed yoga leggings or harem yoga pants. The printed leggings and unisex pants have all the features you'd expect from our offerings: Our range includes:
• Florals
• One of a kind patterns
• Celestial style prints
Browse our range of offerings for both women and men. We are sure that every person will be able to find the right leggings or pants from our unique and diverse selection. This means you can find the perfect pair that is as unique as you are. Having the right yoga pants or leggings outfit can make any movement practice look effortless while still feeling great.
YOGA LEGGINGS & PANTS FROM CANADA WITH COMFORTABLE FITS AND FABRICS
If you're looking for leggings in Canada online, then shopping at Ladybase Love allows you to support a local business and minimize your ecological footprint.
Our printed leggings are manufactured in Canada. This ensures supporting additional Canadian businesses and providing higher quality, breathable fabrics. We want to sell products that we would wear ourselves. For your customer service needs and request our team is based in Canada and always ready to help.
YOGA PANTS & YOGA TIGHTS ACTIVE LOOKS THAT WORK FOR YOU
Shop with Ladybase Love and you can find all sorts of active wear for women; such as yoga pants, workout yoga tops, shorts and much more.
Ladybase Love offers workout looks that are not only comfortable, but that are fashionable and fun. You don't just have to stick to black yoga pants and a t-shirt. Our printed leggings come in many different styles that'll give you a colourful and fun style, which can be paired with our many other offerings to give you a completely unique look. Take a look on our Instagram to find our strappy, backless and cropped tops perfectly paired with our high or regular waist leggings. These can be worn straight from any movement class to everyday street style.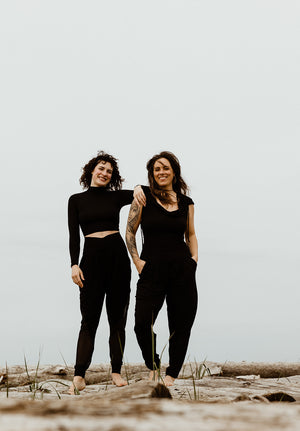 HIGH WAIST OR REGULAR WAIST YOGA PANTS – THE CHOICE IS YOURS
One problem that the founders of Ladybase Love identified with existing yoga pants brands is that the standard waistbands didn't work for all body types. All yoga leggings and pants are not all designed to flatter the body especially in the mid section. Sometimes leggings are cut too below the midriff creating the dreaded muffin top or too much exposed skin. Unfortunately, all the hoisting up to find the right fit can lead women to giving themselves the dreaded camel toe.  
That's why, when you order a pair of yoga pants from us, you can choose regular or high waist leggings. These full-length pants are designed intuitively to give full coverage for all lengths of torso's.
There are many advantages to higher waist pants:
• They create a smooth silhouette
• They have a modern, on-trend style
• When you bend over or do a yoga pose, your lower back is covered
They give you a little more coverage if that's the style you prefer.
How Many Pairs of Yoga Pants do I Need?
The short answer is, there is no limit to the number of pairs of yoga pants you can own! Some women have one pair of leggings that they wear and wash all the time, while others have a different color for each day of the week.
What is the Difference Between Yoga Pants and Leggings?
Leggings will have a tighter fit and canbe worn for layering, often under long tops or dresses. Our women's yoga pants are generally thinner and do not have such a contouring fit. They also can be worn as a looser fit.
What are the Best Yoga Pants to Buy?
When choosing yoga pants, look for quality fabrics with lots of stretch and good stitching. If you buy yoga pants online, look for brands that focus on quality and designs that fit the body type correctly.