Women's Yoga & Fitted Workout Shorts
All of our yoga shorts are well designed and constructed just like our pants and leggings. Designed by women, for women, these ladies yoga shorts have the advantage of being both stylish and comfortable with lots of features that make them perfect for any type of class. While our range has been designed to use as yoga and movement shorts, women use them for all types of activities, from going to the gym, hiking, and any type of movement class such as dance. Our velvet shorts are versatile enough to wear on a night out or at a festival. These might be the perfect fitted gym or pole dancing shorts for you.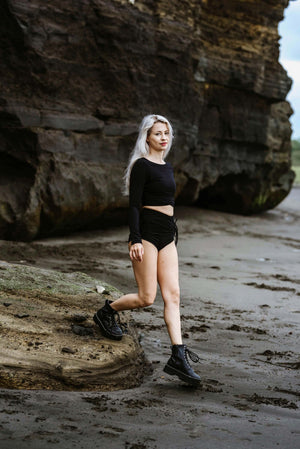 YOGA SHORTS WOMEN ADORE FROM LADYBASE LOVE
Ladybase Love is a female-led company started by two yoga-loving entrepreneurs who wanted to create a range of apparel that would include the best workout shorts for women. With that in mind, the shorts were created with a number of features:
• A camel-toe proof design – Nothing is worse than getting a frontal wedgie halfway through your yoga class. Our yoga shorts don't bunch or ride up and stay in place through even through the toughest yoga classes.
• Comfortable fabrics – We've chosen breathable fabrics that ensure you don't feel hot or sweaty during your classes.
• A choice of waistbands – We offer both regular and high waisted shorts to allow you to get the amount of coverage you want.
These are the most versatile womens workout short shorts as they can be adjusted for full coverage, or can be pulled up slightly for the popular cheeky look.
THE BEST HOT YOGA SHORTS FOR WOMEN WHO WANT TO SWEAT IT OUT IN STYLE
One reason why you may be looking for women's fitted workout shorts could be for more comfort in your movement practice. Looking for the right apparel, like pole shorts is difficult in certain movement practices like pole dancing or aerial silks. At Ladybase Love we have more than just your average workout legging shorts. We have shorts that are designed to move with the body as well as look good.
Our shorts for women are made to cope with high temperatures and designed to fit and not constrict. If you're looking for the best womens yoga shorts, then our yoga shorts are perfect for you.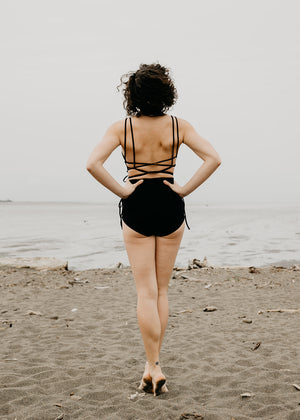 WOMEN'S FITTED WORKOUT SHORTS ARE GREAT FOR ACTIVE DAYS
A good pair of workout shorts and women's yoga shorts will be suitable for all occasions, taking you from the gym to the coffee shop. At Ladybase Love, we design shorts for all your needs:
• A fitness class – These shorts are ideal for all sorts of high impact activities and won't get in the way.
• Any sort of movement classes – From a dance class to Pole Dancing, Zumba or something with lots of stretching like Pilates, these shorts will stay in place no matter what you do.
• Lounging – You don't have to be on the go to appreciate these shorts. They're just as comfy to wear on rest days.
Our workout shorts for women have many uses you'll end up wearing them more than you think.
CHOOSE WOMEN'S YOGA SHORTS IN LOTS OF STYLES
While some people simply want some basic black shorts, we have a range of shorts to suit different styles to ensure you look great while you work out. From our website, you can buy a variety of fabrics and designs to fit your style and needs.
We offer abstract prints, floral designs and even velvet fabrics for just that little extra flair to your look. By shopping with us you can easily find unique eye catching designs with quality and durability.
WE DON'T JUST DESIGN WOMENS YOGA SHORTS AT LADYBASE LOVE
While you may have found Ladybase Love while searching for the best yoga shorts for women, we don't just sell ladies' yoga shorts. When you buy our products at Ladybase Love.com, be sure to check out the rest of our apparel. Our yoga pants for women are popular during the cooler months, either for workouts or day to day wear, and you can expect the same high quality and wide range as our shorts.
It's also easy to pair our women's exercise shorts with one of our women's yoga tops to create an entire outfit for any movement class. Much like our shorts, these tops have been designed not only to be flattering, but also to be practical to wear to any movement class, like yoga. They are easy to adjust, don't ride up and made from breathable, eco-friendly fabrics, which perfectly complement our shorts and leggings/pants.
What are Women's Yoga Shorts?
Yoga shorts are basically just a shorter version of yoga pants, usually made in the same sort of fabrics with a similar fit. When you find specially designed women's shorts for yoga, they will be designed to stay in place with the best fit.
What are the Best Fabrics for Yoga Shorts?
When it comes to yoga shorts, we recommend looking for breathable, stretchy materials. But more importantly, the design and cut of the pattern will allow for mobility, flexibility and functionality.
Can I use Yoga Shorts for other Activities?
Most women's short yoga pants are also suitable for a range of other activities. This ranges from Pilates to acroyoga, pole dancing and even on the dance floor at a festival. The stretchiness and breathability of yoga shorts makes them ideal for all sorts of physical activities. They're also comfy enough to wear on lazy days, especially in the summer.